Description
Ginger, also known as Khuong, Sinh Khuong, Co Khiem (Thai), Sung (Dao), belongs to the Ginger family with the scientific name Zingiberaceae. In medicine, Ginger has the effect of  treating abdominal pain, diarrhea, easy digestion, low numbness, headache, stuffy nose, vomiting, abdominal distension. Tubers cure edema. Ginger root is also combined with other herbs to treat leprosy.
Uses: 

 Cure abdominal pain, diarrhea, easy digestion, rheumatism, headache, stuffy nose, vomiting, abdominal distension (Rhizophrenia decoction). Tubers cure edema. Ginger root is also combined with other herbs to treat leprosy.

Processing

 : Depending on the form of use and preparation method, Oriental medicine has the following medicinal herbs from ginger:

Sinh Khuong

 : Fresh Ginger

Khuong pepper

 : Fresh ginger root is sliced ​​thickly and dried. Then, until it is almost golden, sprinkle some water on the ginger while it is still hot, cover and let cool.

Bao Khuong:

 Prepared dried ginger

Than Khuong (Hac Khuong)

 : Thickly sliced ​​dried ginger, grilled or burned black.

Khuong skin:

 The peel of the ginger root has been dried.

Can Khuong:

 Ginger root is dried or dried
Description of Ginger
Ginger is a herbaceous plant that grows straight, with an average height of about 1 meter
Rhizomes (bulbs) fat, fleshy, can be divided into many small branches. Some tubers have a shape similar to a swollen hand. The outer bark is brown, the inner intestine is light yellow, firm, fibrous, and has a pungent smell.
Leaf buds grow from the rhizome. Many leaf sheaths are tightly wrapped together to form a false stem. The tongue is membranous, with an average length of 2-10mm, divided into 2 lobes.
The leaves of ginger are green, lanceolate, often sessile or, if present, very short. Each leaf is 15 – 30 cm long and about 2 – 2.5 cm wide, pointed at the top and bottom. The leaves grow alternately with each other. Some leaves may be hairy when young, but later smooth. In addition, bracts are ovate, pale green, sometimes with a yellowish tint.
Ginger flowers grow in clusters, growing from the rhizome in October every year. The peduncle of the inflorescence can be 15-30cm long. The flower stalk is shaped like an egg-shaped or cylindrical rice flower. Calyx like glass, length from 1 to 2.5 cm. Meanwhile, the corolla has a tube with a length of 2 – 2.5 cm, has yellow-green, white or yellow colors. Stamens dark purple, with white anthers. When newly developed, bracts are tubular, green but pale.
Ginger has an elongated bile duct.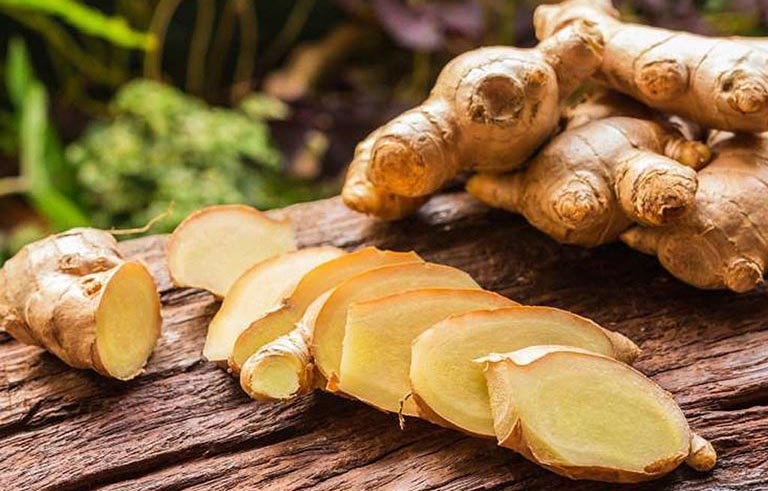 According to modern medicine
Modern research has discovered many health benefits of ginger such as:
In the respiratory tract: Inhibits syncytial virus in the respiratory tract. Prevent and improve cough, shortness of breath, sore throat, congestion, runny nose and symptoms associated with colds, flu, asthma, sore throat or bronchitis.
In the digestive tract: Ginger has the effect of neutralizing stomach acid, reducing inflammation in the intestinal mucosa, preventing gastroesophageal reflux, soothing abdominal pain, stomach pain. Besides, this herb also helps promote digestion, relieve heartburn, indigestion.
On the circulatory system: Some active ingredients in ginger have the ability to dilate blood vessels, increase blood circulation to all organs in the body, and reduce cholesterol in the blood.
With musculoskeletal system: Ginger helps reduce joint pain. The anti-inflammatory properties of this herb also help in the treatment of arthritis, rheumatism, gout and many other musculoskeletal problems.
In the nervous system: Ginger has the effect of reducing stress, anxiety, dizziness, and soothing headaches.
Other effects: Prevent diabetes, fight motion sickness, support weight loss, prevent cancer, enhance physiology.
Because of its many health benefits, ginger is often used as a seasoning for dishes, processing teas and making jams and candies.
If you are really interested in our products, please contact me in signature. We still have a lot of products for you to check out.