Description
Tapioca starch ( Tapioca Starch or C 
assava starch ) 
is the main component of the tapioca tuber (or cassava root). It is extracted from the tubers (roots) of the tapioca plant and is one of the major commercial starches in the global market, ranking second after corn starch.
In production applications, tapioca flour can be substituted with other starches extracted from: Corn, Potato, Wheat with similar biological and chemical properties.
But with low economic cost, available raw materials in the country, plus not using genetically modified technology (GMO) have made tapioca flour an indispensable raw material or additive in production. industry.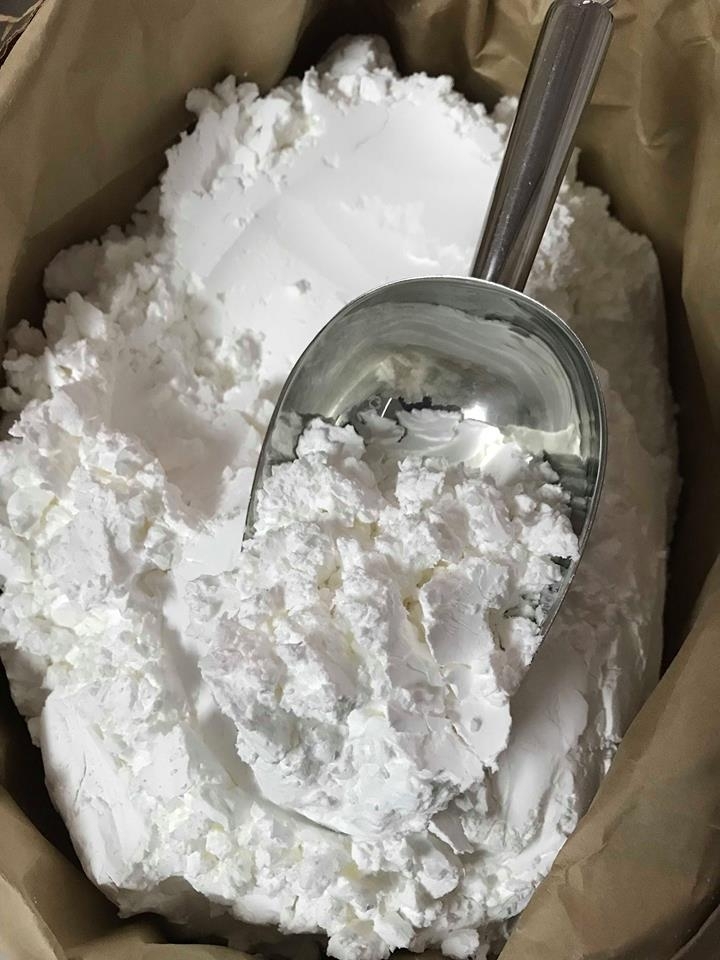 Distinguish tapioca starch and tapioca starch
Tapioca starch is starch extracted from the tapioca root. To get this powder, one has to go through a very elaborate processing process: The tapioca roots are washed thoroughly, ground to a fine powder with water, then filtered to remove the starch that settles below, then dried. . Tapioca starch consists only of the starch of this tuber without being mixed with other ingredients. Tapioca starch is often used to make cooling drinks.
Tapioca starch is also called tapioca, so many people misunderstand that tapioca starch is tapioca starch, however, these are two completely different types of flour.
Tapioca (tapioca) is the starch of cassava root, also known as tapioca, a type of flour that is often used quite a lot in making cakes as well as in soups, tea dishes, soup cakes or added to the ingredients of a dish. the number of sauces of the dishes. Tapioca starch is the starch of the tapioca root, a type of cassava with a climbing stem rather than a cassava plant (tapioca) with a hard stem like tapioca (tapioca).
Tapioca starch is often used to mix directly with water or in combination with a few traditional medicines to help the body:
Hypothermia

Improves cerebral and coronary circulation

Lowers blood sugar, regulates dyslipidemia

Lower blood pressure, anti-arrhythmia

Detoxify, protect liver cells

Anti-aging and cancer

Active prevention of respiratory viral infections

Improves the body's ability to endure the lack of oxygen…
APPLICATIONS OF STARCH, TAPIOCA STARCH IN PRODUCTION
Tapioca starch is extracted from cassava roots after being processed and separated by biochemical and physicochemical methods, it is not only used as a food material but also used as the main raw material of other products . Specific industries are as follows:
Application in daily food

 : Tapioca Starch (Tapioca Starch) is widely used in dry products such as rice paper, tapioca flour, vermicelli, noodle soup, farming.

Application in food industry

 : used to produce instant noodles, alcohol, seasoning seeds, main noodles

Application In the paper industry

 : Tapioca flour is used as a filler or a surface coating for some types of paper and cardboard with ashless ingredients.

Application in the textile industry:

 used in the sizing of fabrics

In the construction materials industry: Tapioca starch is applied in plaster ceiling panels, increasing the cohesion for clay, limestone, as an additive to paints.

Pharmaceutical and cosmetic industries:

 Tapioca starch is used as a whitening powder, a filler in pharmaceuticals, and to create a colloidal film in some cosmetics.

Manufacturing modified starch E1420, E1414, E1404, E1422

 , etc., widely used in the food and paper industries.
+ Products made with tapioca don't lose their quality when frozen or reheated because tapioca retains its thickening capabilities throughout these processes.
+ Tapioca becomes clear and gel-like when cooked and dissolves completely when used as a thickener.
TYPE

SPECIFICATION

– Moisture: 15% max ,
– Starch: 89% min,
– Ash: 0.5% max,
– Fiber: 0.5% max,
– Whiteness: 89% min,
– Viscosity: 750 BU min,
– PH: 5-7.

PLACE OF ORIGIN

Vietnam

BRAND NAME

Viet Delta

PACKING

PP/PE Bag, Paper Bag, jumbo bag with full palletized
We still have a lot of products for you to check out.