Description
COCONUT WATER
Fresh coconut water is a natural beverage that is very popular because it is both safe and popular everywhere. The effects of coconut water on health and beauty far outweigh its economic value. So is drinking coconut water good? What are the benefits of drinking coconut water?
Coconut water is a clear liquid, delicious taste, contained inside young coconuts (also known as green coconuts). When the coconut is ripe, the water will be less and replaced with coconut meat (old coconut). Coconut water is different from coconut milk. Coconut milk is made from the flesh of an old coconut.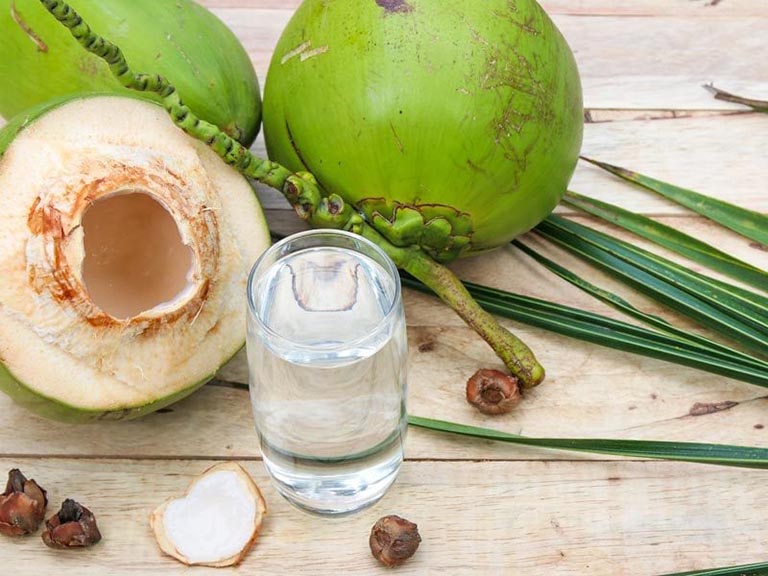 Nutritional ingredients in fresh coconut water
An average young coconut provides about 0.5 – 1 cup of coconut water. One cup of coconut water (240 ml) contains 46 calories along with the following nutrients:
Carbs: 9 grams
Fiber: 3 grams
Protein: 2 grams
Vitamin C: 10% of the daily diet
Magnesium: 15% of daily intake
Manganese: 17% of the daily diet
Potassium: 17% of the daily diet
Sodium: 11% of daily intake
Calcium: 6% of the daily diet
Coconut water is a favorite drink especially in summer. Coconut water is used as a remedy for water and electrolyte loss associated with diarrhea or exercise in hot weather. Coconut water is also used in cases of people with high blood pressure to improve exercise results.
Coconut water is rich in carbohydrates and electrolytes like potassium, sodium and magnesium . Due to these electrolyte components, there are many who believe that the use of coconut water can be used in the treatment and prevention of dehydration. But some experts believe that the electrolyte content in coconut water is not enough to use as a rehydration solution.
What are the benefits of drinking coconut? Effects of Boosting Energy on the Body
Because it is richer in vitamins and minerals than other drinks, coconut water is very energetic. In particular, coconut water contains less sugar and less sodium, but high in potassium, calcium and chloride. Helps replenish and elevate your body's energy levels for optimal energy.
What are the benefits of drinking coconut ? Boosts Heart Health
According to researchers, people with high blood pressure often have low potassium levels. Drinking coconut water is quite effective in regulating blood pressure due to its high concentration of potassium and lauric acid.
Similarly, several studies have shown that coconut water can help increase HDL (good) cholesterol. Therefore, coconut water becomes an excellent natural drink for maintaining heart health.
What are the benefits of drinking coconut ? Helps reduce the risk of dehydration for the body
Because coconut water is rich in potassium and other minerals, it regulates internal fluids and replenishes water in the body. It has been used to treat dehydration every time you have dysentery, cholera, diarrhea, flu and electrolyte balance.
Not to mention the plasma found in coconut water is similar to human blood. Therefore, drinking a glass of coconut water a day helps reduce the risk of gastrointestinal abnormalities, bye bye mouth heat and quickly recovers the body after dehydration.

Uses of coconut water: Helps to beautify the skin
Helps improve heart health
Is it good to drink coconut water every day or what are the health benefits of coconut water? According to scientists, people with high blood pressure often have low potassium levels. Meanwhile, the effect of fresh coconut water helps to regulate blood pressure. Therefore, fresh coconut water with a lot of potassium and lauric acid is a very good drink for people with high blood pressure.
Support in the treatment of digestive diseases

Some notes when using coconut water
1 Effects of Siamese coconut water
Fight cancer, skin aging, wrinkles, poor eyesight. In addition, it also helps to improve bone problems.
Good for the human digestive system, making digestion easier. Has antibacterial ability to reduce bloating and indigestion in the stomach.
2 Harm of fresh coconut water
Coconut water is very harmful to health if you drink a lot of 3-4 fruits / day, especially for patients with depression, low blood pressure, cold people.
Coconut water drink in the evening (causes bloating).
After going out in the sun, drinking too much coconut water will lead to symptoms: chills, bloating, fever or high fever… Therefore, it is necessary to drink it slowly, little by little.
When competing in sports, drinking a lot of coconut water will make the limbs shake, reduce flexibility and quick reflexes needed.
Coconut water is not only a great beverage to help us cool down immediately, but the healing and beauty effects are all concentrated in the coconut. It is a very useful fruit.