Description
Fresh Pineapples is good fruit for you. Pineapple is rich in vitamin A, vitamin C, calcium, potassium, and phosphorus. While rich in fiber and energy, low-fat pineapple and cholesterol should be great nutrition that you should add to your diet to improve and maintain health.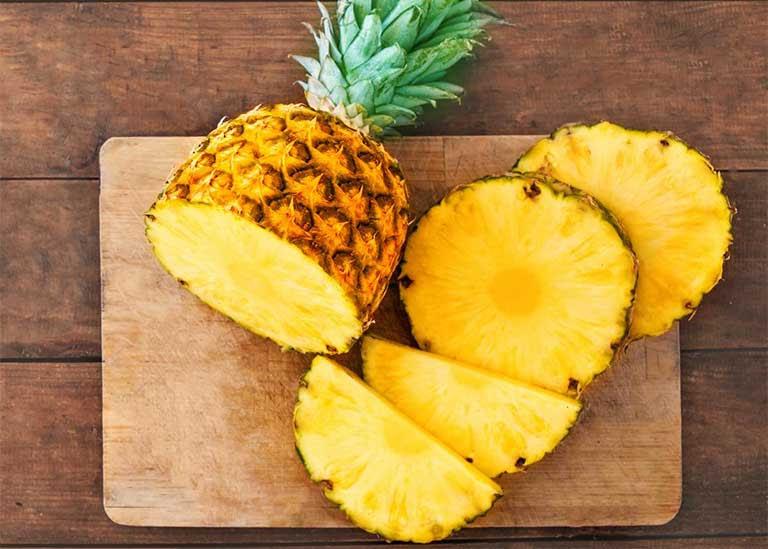 Description of Pineapple (Pineapple)
Identifying characteristics of pineapples
Pineapple stems are only about 1 to 1.2m high, shaped like bamboo shoots. The trunk is divided into 2 parts, including the above ground and underground.

Pineapple leaves are thick, narrow, blade-like at the top, with serrated edges or spines. Leaves grow in clusters of 20 or more leaves on each plant, depending on the different type of pineapple. Pineapple leaves often have a white powdery coating.

Pineapple flowers grow in clusters of many small flowers on a common flower stalk. This number of flowers is the number of pineapple eyes when the tree bears fruit.

Pineapple or pineapple is a double fruit, round or cylindrical in shape. When ripe, the fruit turns from purple green to dark green and then yellow.

Pineapple seeds are very small, enclosed in pineapple eyes.
How to collect, prepare and preserve?
Harvest – preliminary processing:
Buds and buds: pick the bud at the top of the fruit and young pineapple buds to make vegetables, cut off the old leaves and leave the young core inside.

Pineapple (fragrant) is harvested whole.
Preserve:
After harvesting and preliminary processing, pineapple pods and fruits are usually used fresh, stored in a dry place or when ripe, refrigerated.
The fruit is actually made of many individual berries that fuse together around a central core. Each pineapple scale is an individual berry.
Pineapples' nutritional benefits are as fascinating as their anatomy. "Pineapples contain high amounts of vitamin C and manganese," said San Diego-based nutritionist Laura Flores. These tropical treats are also a good way to get important dietary fiber and bromelain (an enzyme).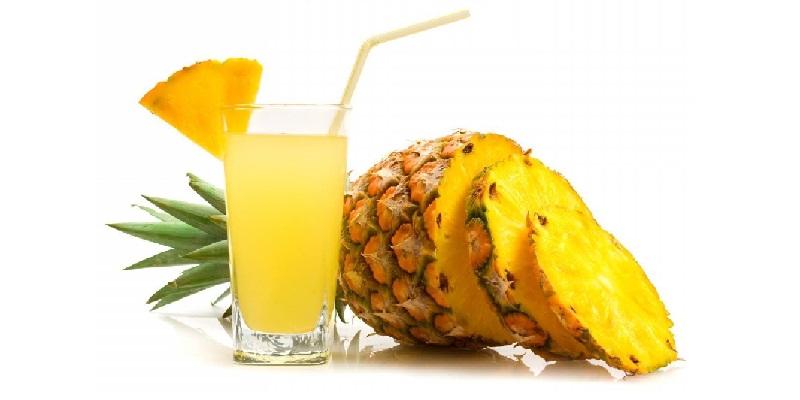 Benefits of pineapple for human health
The health benefits of pineapple (pineapple) have been recognized by many studies. Some of the salient effects of this fruit can be mentioned as:
Strengthen the body's resistance and immunity.

Improve bone system, strengthen bones, prevent osteoporosis in postmenopausal women.

Prevents the formation and dissolution of blood clots.

Improve eye health, enhance eyesight.

Helps keep the respiratory system healthy to prevent and relieve respiratory problems, especially asthma.

Support treatment and relieve symptoms of diabetes.

Improves the function of the digestive system, prevents constipation.

Beautify skin, anti-aging, acne treatment, improve skin pigmentation.

Helps blood vessels circulate, lower blood pressure

Strengthen teeth, make nails beautiful, not broken

Prevents hair loss, makes hair smooth, soft, thicker.

Prevents the formation of cancer cells

How to choose to buy delicious and quality Fruits

To be able to choose to buy a juicy pineapple, you can apply some of the following tips:

Choose a fruit with an even yellow body from stem to tail. Do not choose fruits that are uneven in color or have brown spots on the skin or that have red-yellow skin due to overripeness.

Choose a short coconut, with a round oval shape, the flesh will be more.

Fruit with large and sparse pineapple eyes is a sign that the fruit has reached the point of harvesting and ripening naturally, not impregnated with chemicals.

The top should choose fruit with fresh green tops, not wilted or yellowed.

Pineapple is fragrant, do not choose fruit that is low in odor, odorless or has a sour smell like fermentation.