Description
 Wooden Coconut Teapot
 Wooden Coconut Teapot is a symbol of the gathering, warmth and happiness of a family. The teapot is also a symbol of luck and fortune in life. Displaying tea sets creates a beautiful space – a space of familiarity, warmth and sincerity.
According to feng shui, a tea set consisting of a pot of tea and six cups of tea is a symbol of family reunion. The water flowing into the cups symbolizes the fortune and luck of the father's life passed on to his descendants. That's why the tea set is not just a tea making or decoration item, it also means a souvenir, a long-term attachment in the family.
Today, the tea set is not only used to make tea, but it is also used for decoration and worship. So the tea set can be displayed and used in the living room, office, shop, altar or in the garden… creating a cozy, close space, exuding a modern blend. and traditional.
Product Description
What's so special about the tea set made from wood?
– The teapot set is made from many types of wood such as rosewood, rosewood, rosewood… The wooden tea set brings rustic features with elegant design. The tea set is loved by many people because it is a necessary and indispensable item in conversations and meetings with family, relatives and friends.
– The teapot set is made from wood with ancient and unique features. Therefore, many customers choose to buy themselves a set of wooden teapots as gifts for relatives, friends or partners at work to show their attachment, closeness and intimacy.
With the unique culture natures of Viet Nam, Coconut tree is grown very popular. All products are made from coconut-wood is the fine handicrafts arts, very impressive, with a courteous, subtle color, boldly Vietnamese culture. suitable to buy as gifts for friends, relatives.
– The set of teapot includes 01 tea pot, 06 cups, 01 plate.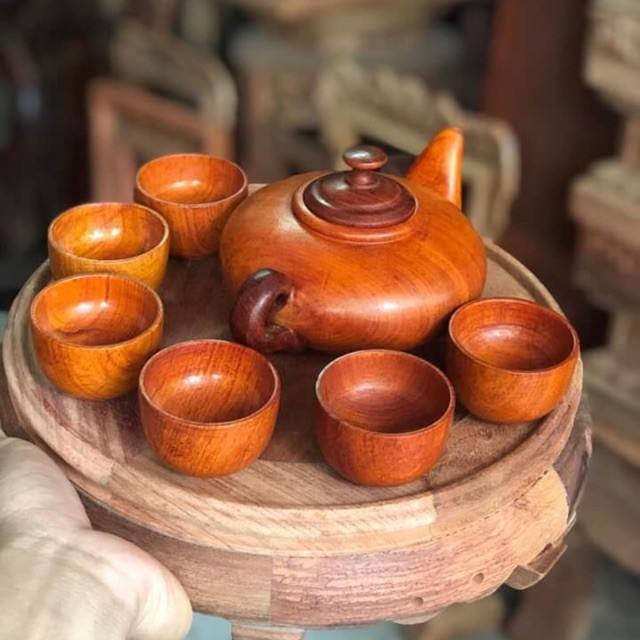 –  The coconut tea set is a fine wood product, beautifully, and boldly Vietnamese culture. The set is made from coconut wood, with a courteous, subtle color, suitable to buy as gifts for friends, relatives. With the unique culture natures of Viet Nam, Coconut tree is grown very popular.
–  A tea set is a set of chinaware consisting of a teapot, teacups, stirrers, saucers, a milk jug, or a creamer jug along with a sugar pitcher
Detailed Images
Packaging & Shipping
All our products are packaged carefully under product's characteristics and their journey. Our products are safe at destination place. In addition, we always try our best to deliver the consignment in time. Customers are always satisfied by our products.
Interaction with tea : Wood has the ability to absorb odors and flavors, making the teapot more and more delicious over time and through use. This creates a unique interaction between the wood and the tea.
Recipes : Each user of a wooden teapot often has its own way of caring for and preserving the teapot. This creates a special personalization and bond between the person and the kettle.
Use how?
Many people who buy wooden tea sets are often surprised because they cannot make tea. Not only is it small, but sometimes it is not well filled and watery… That is a misunderstanding of the feng shui meaning of the wooden tea set. If you want to drink tea, buy a ceramic tea set to use.
The teapot set in feng shui is used for decoration and worship. Therefore, tea sets are usually made from wood and not other materials.
In short, a wooden teapot is not only a tea making tool but also carries with it cultural, spiritual and artistic values.